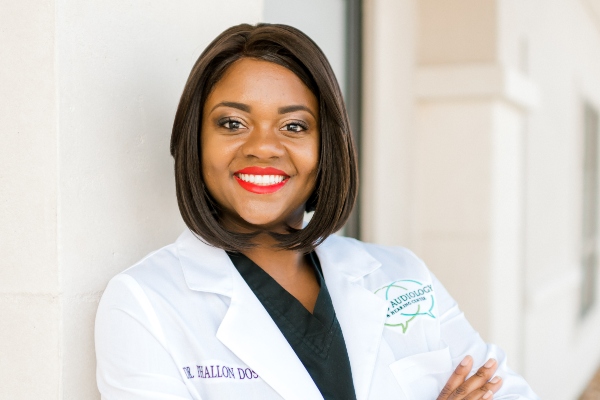 About Phallon Doss, Au.D.
Dr. Phallon Doss is steadily becoming a leader in the field of audiology. She graduated Summa Cum Laude from Texas Woman's University, and received her Doctorate in Audiology from the University of North Texas. She has extensive experience in a wide range of audiologic procedures, including diagnostic hearing examinations, hearing aid selection and fitting, electrophysiology in the surgical setting, and cochlear implant programming. She is credited as performing the first cochlear implant activation in Schertz, TX.
Dr. Doss currently serves as the educational audiologist for the Schertz-Cibolo-Universal City Independent School District. She has also been featured in San Antonio Woman Magazine as a leader in senior healthcare and is the San Antonio Magazine 2016 and 2017 Face of Hearing Healthcare. In 2017, Dr. Doss received the honor of being named a Healthcare Hero by the San Antonio Business Journal. Dr. Doss teaches distance learning Diagnostic and Pediatric Audiology for the University of Guyana in South America and also serves as a guest lecturer for the University of North Texas in the area of Private Practice Audiology.
Dr. Doss maintains her Clinical Certification from the American Speech-Language-Hearing Association and is a Fellow of the American Academy of Audiology.
Battery Sales
Battery Club
Bluetooth Hearing Aids
Cochlear Implant Mapping
Hearing Aid Counseling
Diagnostic Audiologic Evaluations
Ear Impressions
Assistive Listening Devices
Evaluation for Musician's Ear Plugs
Follow-Up Care
Hearing Aid Dispensing and Fitting
Hearing Aid Repair
Hearing Aid Evaluation and Selection
Hearing Evaluations for Children
Tinnitus Evaluation and Management
University of North Texas, Doctoral Degree in Audiology
Texas Woman's University, Bachelor of Science
Clinical Certification- American Speech-Language-Hearing Association
Fellow- American Academy of Audiology
Address:
Doss Audiology & Hearing Center, Woodland Oaks Drive, Schertz, TX, USA