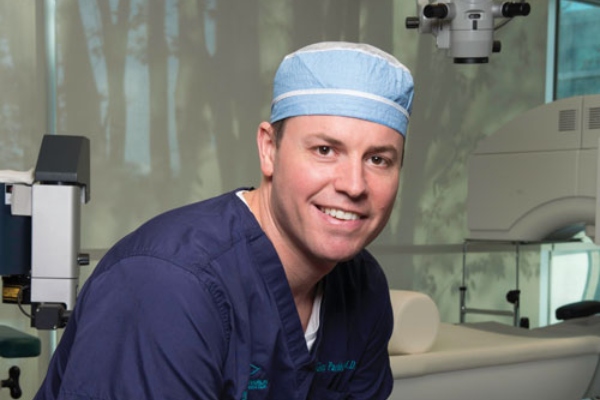 Gregory D. Parkhurst MD, FACS
About Gregory D. Parkhurst MD, FACS
Gregory D. Parkhurst, MD, FACS, is a Global Top 40 Under 40 Eye Surgeon, who lives and practices right here in San Antonio.
Dr. Parkhurst has performed tens of thousands of successful procedures, such as Modern LASIK and its 7 advanced alternatives, for professionals including country music stars, military fighter pilots, pro athletes, and the most important women in his life – his wife and mother. Dr. Parkhurst specializes in procedures to restore reading vision after 40, as well as Modern LASIK and Laser Cataract Surgery, all of which are designed to help people see their best without being dependent on glasses or contact lenses at almost any age.
Dr. Parkhurst leads an international society of more than 250 of the world's leading vision correction surgeons as President of the Refractive Surgery Alliance, and he teaches the next generation of eye doctors as a member of the teaching faculty at UIW's Rosenberg School of Optometry.
Undergraduate:
Hillsdale College Honors Program Graduated in 1999.
Medical School:
Northwestern University Graduated in 2003.
Residency Training in Eye Surgery:
Walter Reed Army Medical Center, selected as Chief Resident, 2007.
Military Experience:
US Army Major, honorably served until completion in 2011.
Fellowship:
University of Texas and Slade & Baker Vision Center in Houston, subspecialty training as a corneal specialist and refractive eye surgeon.
Dr. Parkhurst's Research & Teaching has been Presented at:
US Food & Drug Administration
American Academy of Ophthalmology
European Society of Cataract and Refractive Surgery
American-European College of Ophthalmic Surgeons
Refractive Surgery Alliance
International Society of Refractive Surgery
American Society of Cataract and Refractive Surgery
Dr. Parkhurst Delivering a scientific lecture to an international audience of surgeons at the annual meeting of the European Society of Cataract and Refractive Surgery in Amsterdam, October 2013.
Address:
Parkhurst NuVision, Datapoint Drive, San Antonio, TX, USA